Welcome to the Fu Shan Hai project.
Here you will find as much information about MV Fu Shan Hai, as possible.
If you have information, pictures or video, that we may share, please don't hesitate in contacting me, or leaving a comment.
Timeline
1994
Fu Shan Hai is built at the Jiangnan Shipyard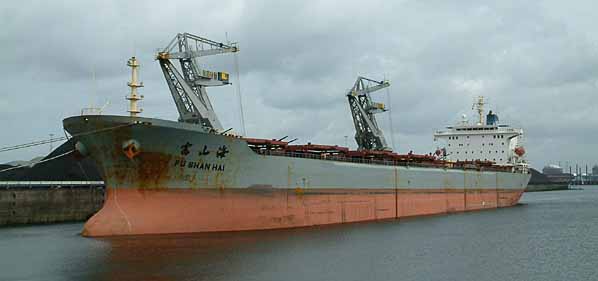 2003
Fu Shan Hai collided with the polish ship Gdynia on May 31st 2003, and sank several hours later.
All 27 crew members were rescued and were transported to the hostel "Hasle Vandrehjem".
Video by the Danish Home guard.
2010
13/5-2010
The crew aboard a fishing boat reports about a thin film of oil, above the Fu Shan Hai wreck site.
Environmental Impact
31/5-2003
(Evening)
An estimated 40 tons of oil has leaked the Fu Shan Hai's tanks, and 10 tons have been collected by the environmental vessels "Mette Miljø", "Gunnar Thorsen" from Denmark, and "202" from Sweden.
When Fu Shan Hai sank, it had the following onboard:
1680 tons of heavy fuel oil
110 tons of diesel on board
6500 tons of fertilizer
The small Danish island Christiansø, north east of Bornholm was in the oil slicks track. It took about two weeks to remove the oil, and the process was documented in this movie:
36,3 kilometres of the Swedish coast was also hit by the oil slick, and had to be cleaned.
https://www.youtube.com/watch?v=S3DIyacXnGg
The prognosis for how the oil from the ship would spread.
After more than 4½ years the final bill has been presented to the insurance company.
The swedish government wil recieve 29,5 million swedish kroner, and the danish government will recieve 24 million danish kroner, to cover the expenses after the Fu Shan Hai oil spill
The owners of the polish vessel "Gdynia" has previously paid aprox. 84 million danish kroner to the owners of Fu Shan Hai.
In August 2013 more of the of the oil was removed from the wreck: